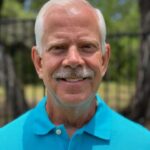 I began volunteering with Habitat for Humanity of Williamson County in 2016.  After retiring I was looking for a way to spend my new found time helping others in our community in a way that would make a lasting change for them.  Our mission as a Christian ministry, focusing on bringing communities and people together to create and sustain home ownership in Williamson County, fit the bill perfectly.
Here's how I've moved from a few hours each week in the ReStore to Board President.  Your journey with Habitat for Humanity will be different but I encourage you to take the first step in service today!
My volunteer work began in the Round Rock ReStore where I have enjoyed showing customers where the latest product was in the store and offering up ideas on ways to use products creatively.
Another door opened for me to expand my opportunity to serve when I joined the Board of Directors in July 2018.  One of the greatest highlights of the last two years on the board has been to get to know the families that we have helped acquire home ownership.  Learning of the obstacles many of these families faced and then the positive changes in their family's home ownership is very moving.
B.J., was able to create stability for her children to be able to attend the same school on an ongoing basis and then attend college, a first in her family, and each finding their own success in their desired career.
The M.C. family who moved out of a less than healthy apartment where the entire family shared one bedroom and were able to purchase their home where the entire family has the space and stability to grow and thrive.
These homeowners attend classes to learn of the many aspects and responsibilities of home ownership, put in many hours of labor in the building of their home and often other homes, and continue to work hard to make the payments on these homes.
Now that Habitat is 20 years old, it is especially rewarding to see some of the first homeowners begin to pay off their mortgages!  Two paid off their mortgage this past spring.
On July 1 I expanded my service to Habitat as the President of the Board of Directors.  I did not anticipate this volunteer door would open but I am excited it did!  The world, down to our community, has seen tremendous changes over the last several months that have affected each and every one of us.  These changes have not only presented challenges for us but also opportunities to look at how to better serve those who are so deserving of our help.
We now own land in Georgetown to allow building for several years into the future.
We are actively working on acquiring land in other areas of the county to continue to provide home ownership opportunities in communities outside of Georgetown.
The Home Repair Program which began in 2014 with 11 repairs has grown to 33 repairs in the last fiscal year and is expected to see continued growth in the next year.
Together we will continue to strive to achieve our vision of Williamson County being a place where everyone has a decent place to live with hope and dignity.  The board will strive to seek even more effective ways to efficiently and effectively meet this vision.  This can only happen with the help of volunteers.  I challenge you to find an area within Habitat where you feel you can best use your talents to contribute.  No amount of time is too small.  I know that you, just as I did, through your involvement and exposure to the wonderful people we help and the vast array of areas to help them will find your time with us very rewarding and fulfilling.
In the current environment of social distancing you may not be able to begin volunteering immediately; however, your donation, no amount too small, will help Habitat for Humanity of Williamson County continue to support families achieve and maintain a safe and secure place to live.
Rick Rice
2020-2021 President
Board of Directors