Last Saturday we hosted our first DIY Workshop at the Round Rock ReStore with a full house of participants. A big thank you to Amanda of Love and Renovations for coming out to host our event where we crafted unique wall hooks out of broken down pallet wood, all using products from the ReStore! The following blog was first posted on Amanda's blog here. Swing by the ReStore today to pick up the following products and get to work creating your own!
Last weekend, I had the opportunity to lead a really fun DIY event at our local Habitat for Humanity ReStore. If you're not familiar with the ReStore, they're resale shops that support the mission of Habitat for Humanity through the sale of deeply discounted building supplies, home accessories, furniture and appliances to the public. They work with local families to build decent and affordable homes and provide a great opportunity for local residents and businesses to give back through donations and volunteering.
For this project, I worked with Habitat for Humanity of Williamson County, which runs two stores in the Austin area – one in Round Rock and one in Georgetown. The event was a ton of fun, and I can't wait for them to do another one so I can go back! I wanted to drop in today to share a few photos from the event and to share a tutorial for how I made the wall hooks that we did at the workshop. It was so fun to watch everyone work and see the creative projects they came up with, and I left feeling so inspired and kind of wanting to make 10 different versions of these hooks because there were just too many good ideas! (The following photos are courtesy of David Valdez)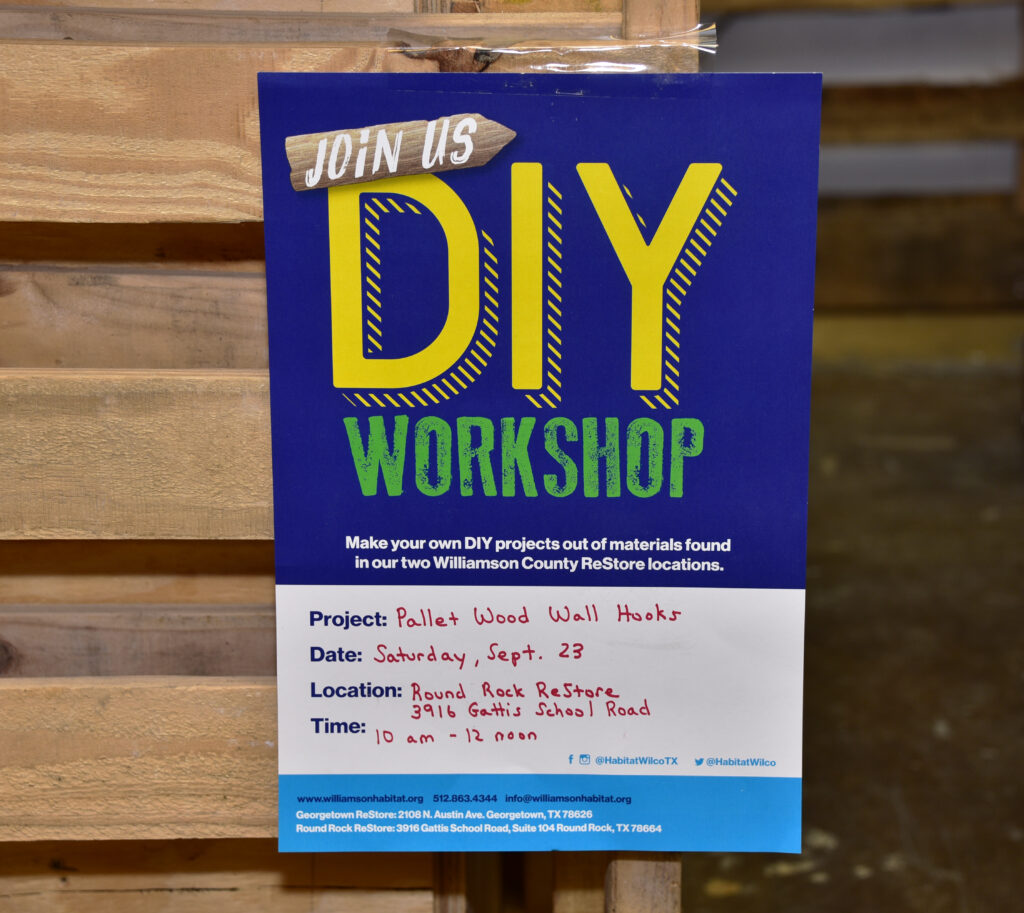 If you have a ReStore near you at all, I absolutely recommend you look into if they do any sort of DIY events. This was so so so much fun and I can't wait to go actually take one of the workshops myself!
Okay, so let's get to the actual tutorial. I'll be talking about how I built the specific wall hooks I used as a sample at the workshop, but you can take this basic method and apply it to about a zillion different designs (as you can see from the photos from the event!). As cheesy as it sounds, your creativity is the only limit here!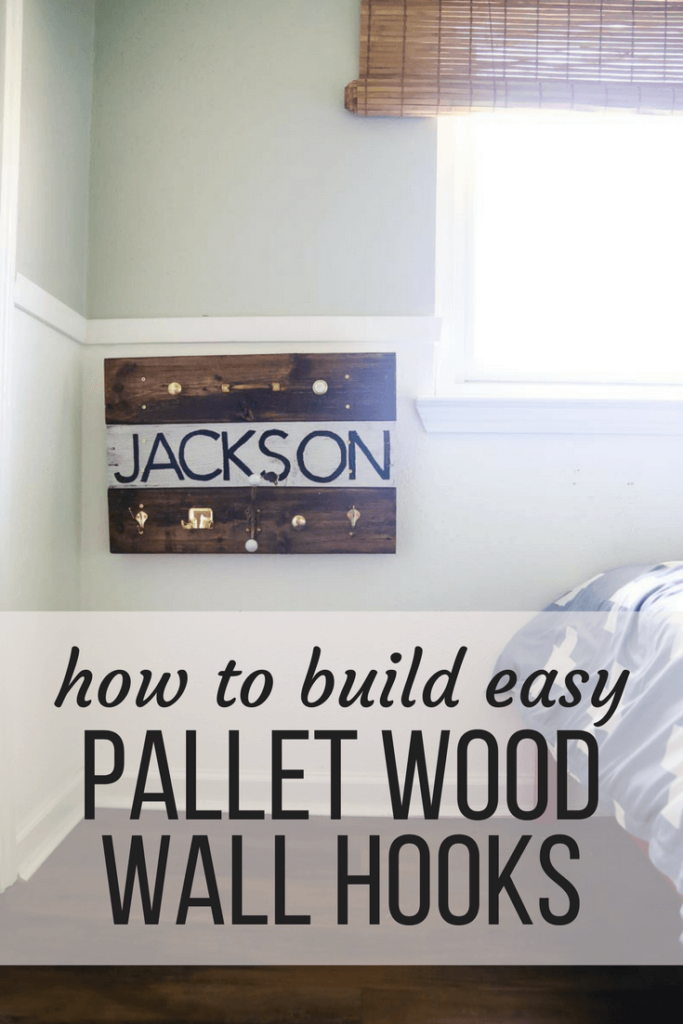 This post contains affiliate links. Click here to read my full disclosure policy. 
Easy Pallet Wood DIY Kids Wall Hooks
Materials:
Pallet wood or scrap wood (I used three of the 1×6 boards and one 2×4 board cut into two pieces)
Drill and screws
Paint and/or stain
An assortment of hooks, knobs, etc.
How to build it:
I started off by staining and painting my boards. Obviously, you can go with whatever design you want here, but I stained two of the boards and painted one. To achieve a slightly more rustic look on the middle board, I actually stained it and then painted on top of the stain – I wanted some of the wood grain to show through, and if I hadn't stained the board first, you'd see the light wood color. It's the same basic technique I used on the sign in our kitchen, and I love the result.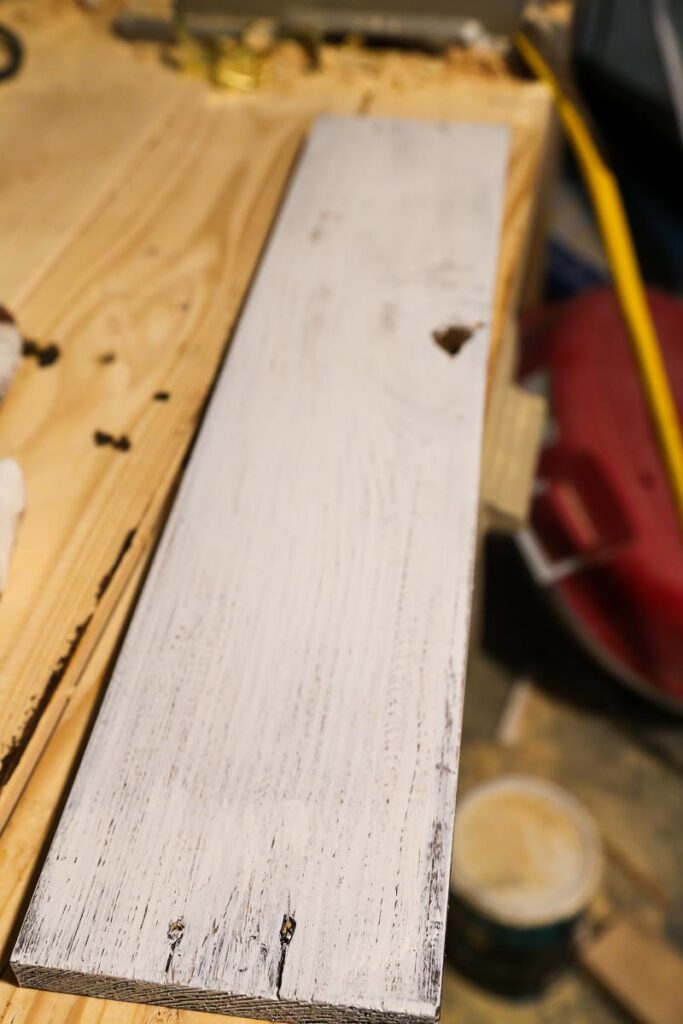 Once everything was dried, I wrote Jackson's name on the painted board. I just printed out his name in a large font (I used Calibri) in reverse – that's the important part. Here's how you do it:
Enter the word you want to trace into a text box in Word (be sure to use a text box – don't just type it in the document!)
Right-click the text box and click on "format shape"
Click on "3-D Rotation"
In the text box next to the "X" axis, type 180 and click "OK"
You should still see your text in the box, but now it will be backward!
Print it out at whatever size you want your letters to be, and then place the paper ink-down on the board. You should be able to use the lid of a pen or marker to rub over the paper and transfer an outline of your letters (see the process in full on this post).
However, I waited too long between printing and tracing and my ink fully dried, so it didn't transfer (at least, I assume that's why it didn't work). So, I just used some graphite paper to transfer the letters for me to fill in. Obviously, with this strategy, you don't need to reverse the letters – you can print them normally.
Apparently, I just like to make things complicated.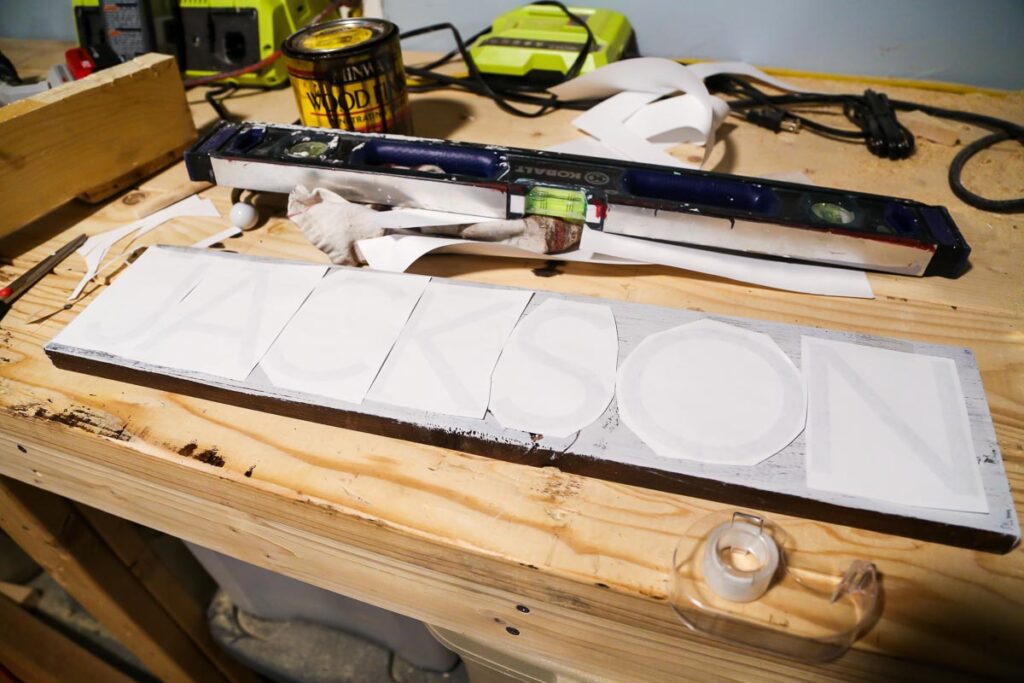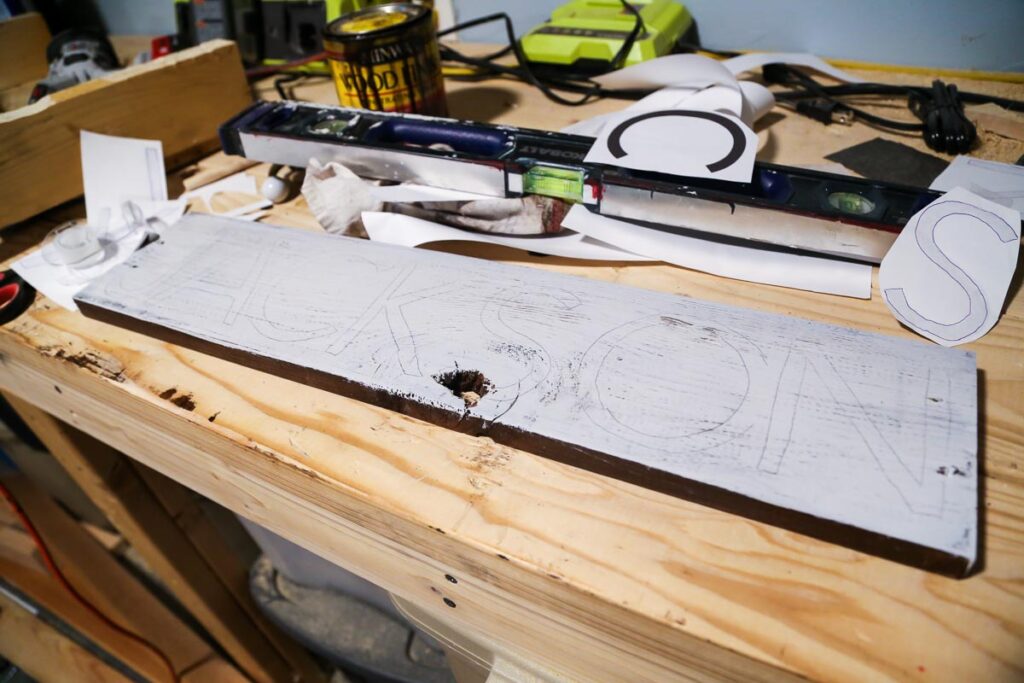 Once you've got your letters traced, you can fill them in. I used my trusty paint marker to do it – it took two coats to make sure it was totally filled in. It only took about 10 minutes for each coat and is so much easier than using a paintbrush.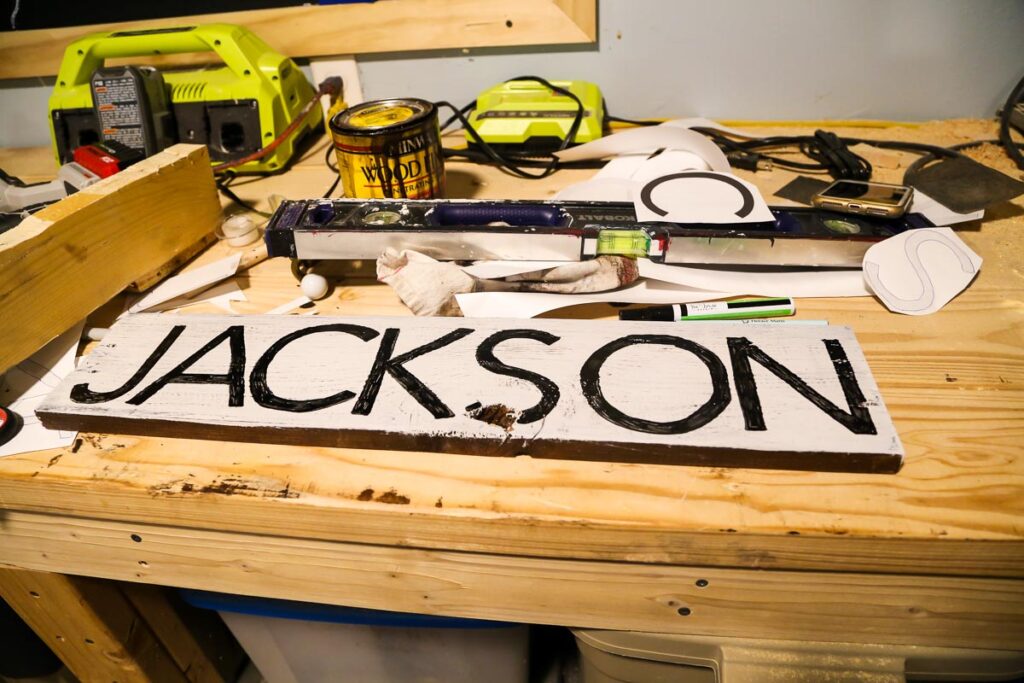 Now, it's time to put it all together. I drilled each of the boards into the 2×4 support boards (though you could use more 1×6 boards if you want, and if I was doing this again I would use the thinner boards). Since all of the hooks and knobs I was going to be adding were gold, I decided to use some gold screws I had leftover from something else – but you don't have to get that fancy with it.
Oh, and you can probably just use one screw on each side. I just did two out of habit and then realized it was probably overkill. But at that point, I was committed.
Sometimes you've just got to see a mistake all the way through.
At least this way I know it's not going to fall apart, even if Jackson hangs off of it or something. It could happen.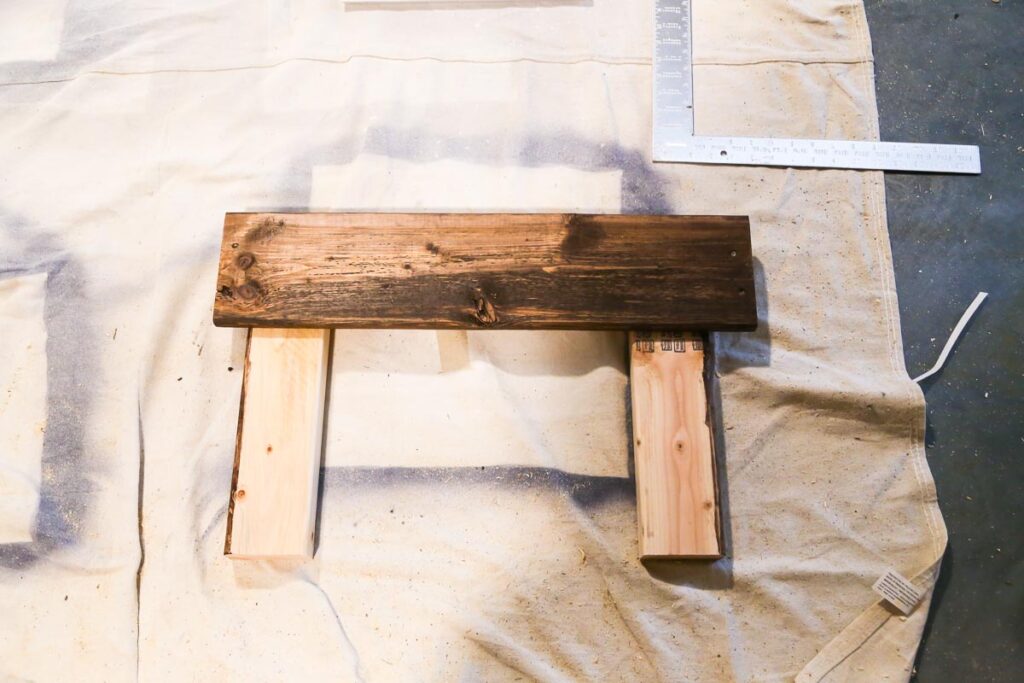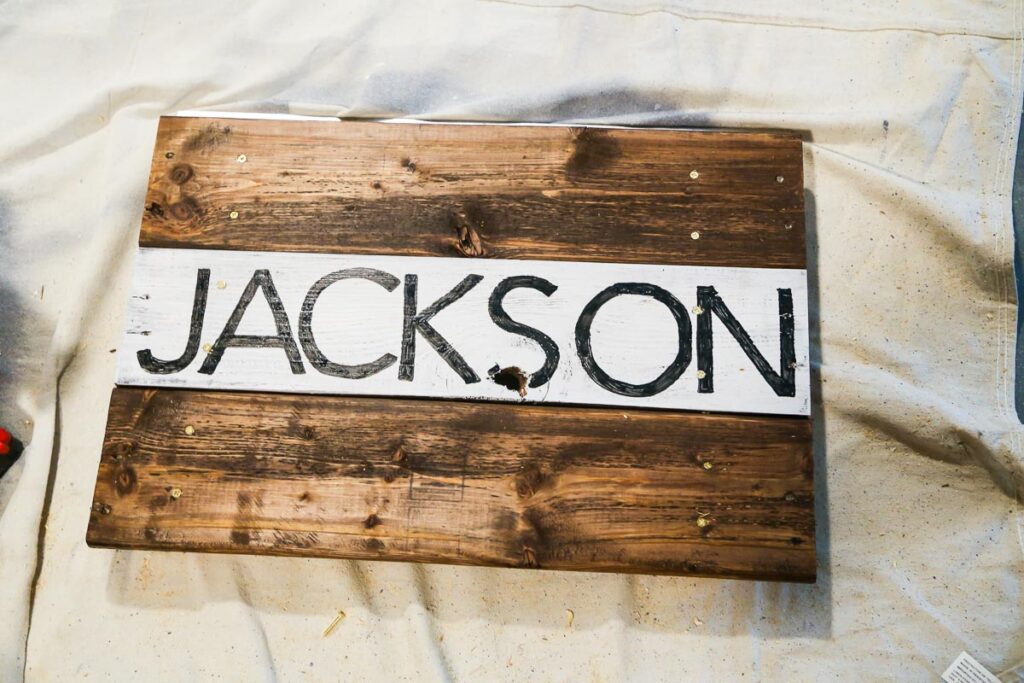 Once it's all put together, you can add your hooks. There's no real method here – just add your random hooks and knobs in a pattern that looks good and makes sense to you. I got all of mine from the Habitat for Humanity ReStore – I went with all gold, but mixed metal would look great too.
I attached most of them with screws, but I didn't have anything that would work for the three knobs, so I just hot glued them on with my super strong Ryobi hot glue gun. We'll see how they hold up! They should hold a mask or a hat just fine but if Jackson decides to hang one of the dogs up there or something they may fall.
You never know.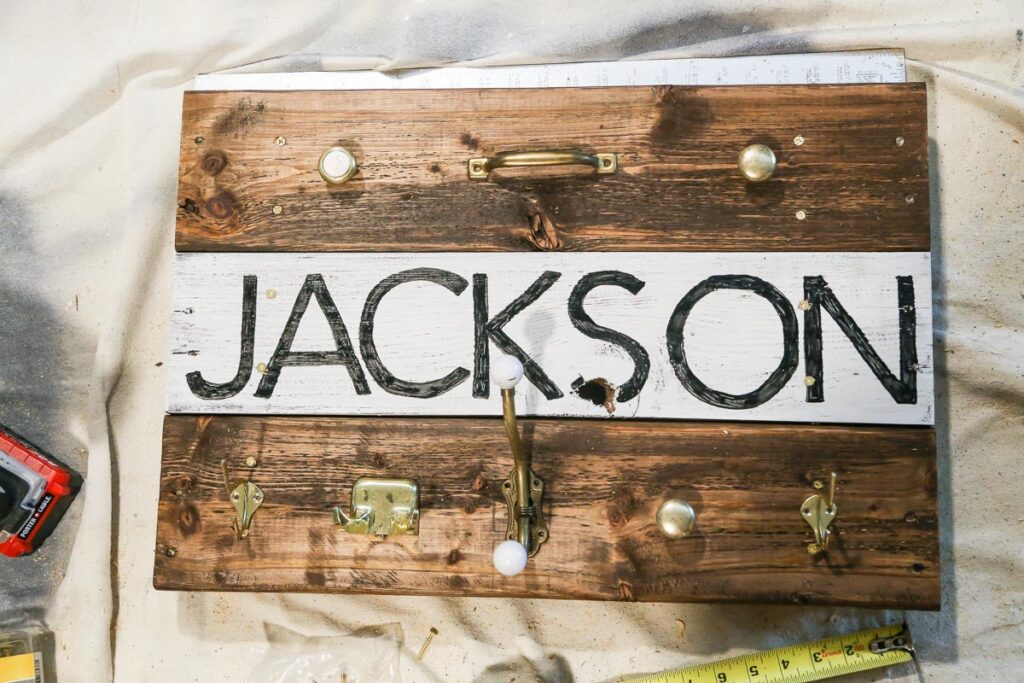 Now, it's time to hang it up! Full disclosure, since we're getting ready to move and will soon have people coming through our house for viewings, I decided not to leave this hung up in Jackson's room right now. I temporarily hung it (using a method I do not recommend and didn't work well so I won't even share it here) to take photos for this post, but if I were actually hanging it to last I would use either some triangle picture hangers or a french cleat.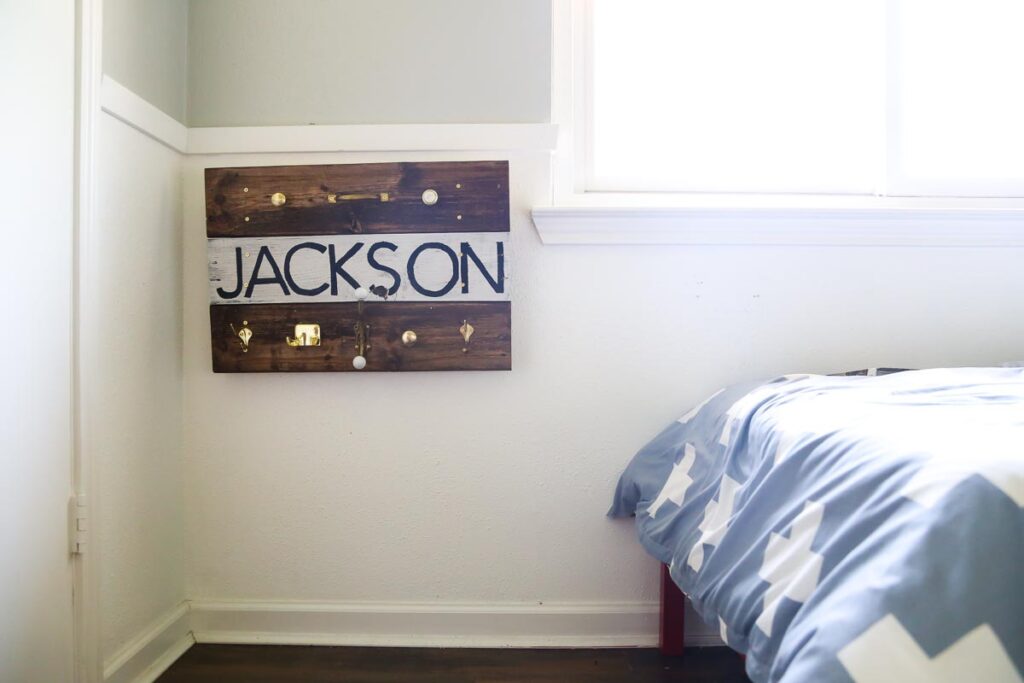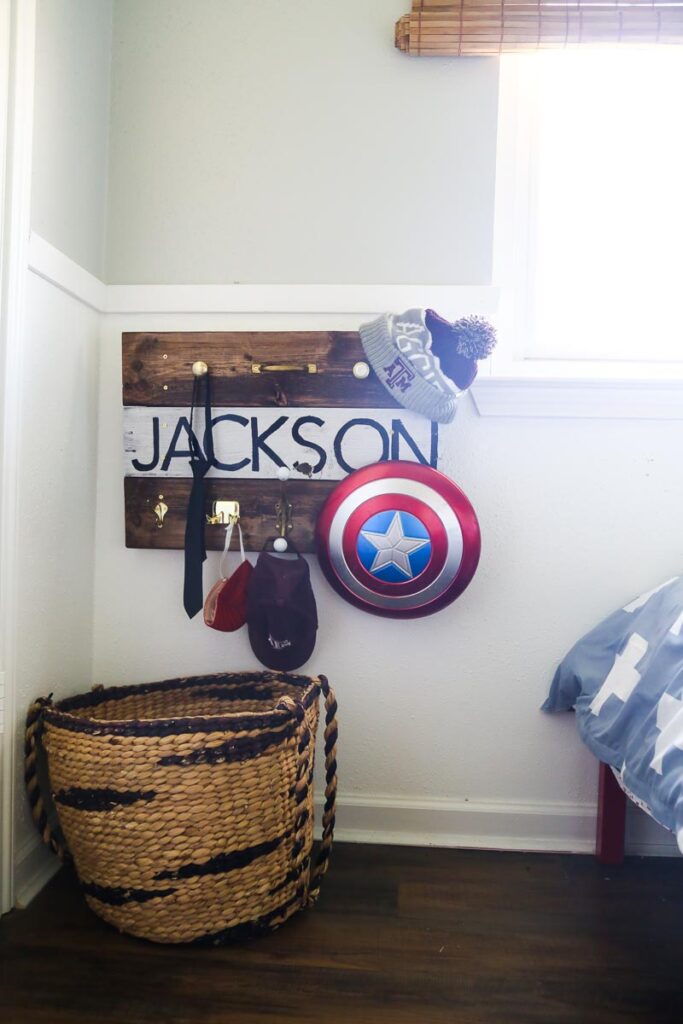 If you're in the Austin area and you're interested in going to a DIY event at the Habitat for Humanity of Williamson County ReStore, there's another one coming up in October. The one I led one sold out, so be sure to reserve your spot early if you want to go!
Have you ever worked with pallet wood? This was my first time and it was a ton of fun!