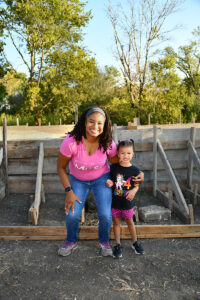 It was a beautiful day on September 18 in Taylor to kick off a new partnership with Atmos Energy to build a natural gas powered Net Zero Energy (ZNE) home for Ashely and her daughter Persephone.
This home will be the first ZNE home in Taylor and it will showcase the reliability and affordability of natural gas. This ZNE home is expected to demonstrate significantly reduced greenhouse gas emissions by producing as much energy as it consumes over the course of a year with a rooftop photovoltaic solar system, high-efficiency Energy Star natural gas appliances, top-rated insulation and windows, and other advanced weatherization features.
"We believe in making a difference in our communities, and we are proud to partner with Habitat for Humanity of Williamson County to build an energy efficient home with affordable utility bills," said Darwin Stamport, Atmos Energy vice president of marketing. "Affordable energy is critical to affordable housing, and this project demonstrates our commitment to fueling safe and thriving communities across Texas.
"Our future homeowner, Ms. Molock, is a single working mother who has aspired to own a home for many years," said Executive Director Debbie Hoffman.  Since 2018, she has endured severe health conditions that continue to this day and require help from her family to care for her 4-year-old daughter. This ZNE home will offer security and comfort to Ms. Molock and her family as she manages her health issues."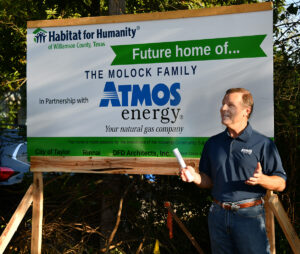 The finished product will be a three-bedroom, two-bathroom house with an estimated average monthly energy bill of less than $75 a month, according to the preliminary design calculations. The energy bill cost includes both gas and electricity. "DFD Architects, who is a wonderful supporter of Habitat for Humanity, designed this home with the energy saving pieces," said Nicole Vommaro, Development and Marketing Director. Atmos Energy's support provides a wonderful opportunity for us to work together to do what we do best, building safe, affordable, and reliable homes.