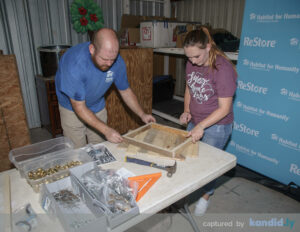 We have had an exciting and busy start to Fall with several diverse Habitat happenings, including launching the ReStore DIY workshop series, completing multiple home repairs, framing up the walls on two new homes and welcoming two new future homeowners into the homeownership program!
In September and October we hosted the first two DIY workshops at the ReStores with more than 30 enthusiastic participants and guidance from several of our wonderful ReStore volunteers!  We are very excited to offer our third workshop in this series on Dec. 2 when we will build pallet wood Christmas trees!  Be on the look-out for more details here and on our Facebook page.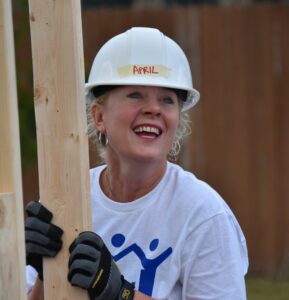 The Habitat Home Repair Program efforts have been in full force these last several months with 11 repair projects completed in the rural areas of Hutto, Thrall, Florence, Elgin, Taylor, Granger and Liberty Hill.  A multi-year grant from the Texas State Affordable Housing Corporation awarded back in 2016 has enabled Habitat to expand the Repair Program efforts to the rural areas of Williamson County.  Additional grant funds from the City of Georgetown and the City of Round Rock received this year will allow us to continue our efforts of sustaining homeownership.  Home Repair Program Applications are now being accepted.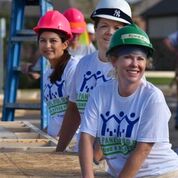 Through our collaboration with the Williamson County Long Term Recovery Committee, we began building back a home in Taylor for Jose, whose home was destroyed in the 2015 Memorial Day floods.  Volunteers have been working extra hard to help get Jose home again.  At the same time, Habitat kicked off a new home build in partnership with Taylor Morrison with a Panel Build event.  Over 60 Taylor Morrison volunteers were joined by our regular key volunteers to build all the walls of future homeowner Kidist's home.  Want to come out and swing a hammer too –download a Construction Volunteer Application.
In September Marisol and Amber, our newest future homeowners, began their partnership with Habitat by starting their sweat equity.  Both of these single, working moms have a busy several months ahead with each of them needing to complete a total of 300 hours of volunteering with Habitat.  Their future home builds are slated to begin in April and May in Georgetown.  Please help us as we work to build strength, stability and self-reliance in partnership with these families.  Donate Today!