"A little over five years ago, I began my journey to homeownership with Habitat.  I was a single mother of two children coming out of an abusive relationship.  First, I moved into the Texas Baptist Children's Home as part of their Family Care Program and I was ready to start a new life for myself and my two little ones.  Coming out of an abusive relationship, you face many challenges.  Achieving a sense of safety and security was number one on my list. We looked into several places, and with minimal work history, (because I had always been a stay at home mom),  it was  extremely difficult to find an apartment that would accept us let alone one with a rent I could afford.  The state housing program wait lists were so long and for me, lacked the sense of security I needed.  It was very discouraging.
Then, one day my family life coordinator at the Texas Baptist Children's Home told me about Habitat for Humanity.  I had never heard of their homeownership program before and so I began researching to find out more.  Their mission was simple "Building Strength, Stability and Self-Reliance". These words spoke so near and dear to my heart as this was exactly what I was looking to build into my own life.  I remember walking into the Habitat homeownership information meeting, the room was full of families young and old looking for the same sense of stability I was.
I still cannot believe the day Habitat told our family that we were going to start on the path to homeownership with them.  They came to us with a blue Habitat shirt and the warmest hugs you can imagine and said "Let's start building."  From that day on I cannot put into words the support and compassion the Habitat family has given me and my family.
Volunteers were there week after week building not only our home but strengthening our family one day at time.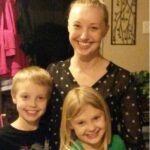 The support from the volunteers and the local community of donors was such an eye opener to all the great people wanting to give back and help give my family a hand-up. We prayed, we framed, we painted, we laid flooring, we sweated and we laughed together.  Every time I walk through my front door, I remember all of these wonderful memories and feel truly blessed!
We have been in our home now for about two and half years.  We feel a tremendous sense of pride, not only in our home, but in our values.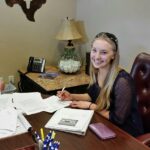 We get to enjoy having BBQ's in our own back yard and the kids are able to bring friends over for sleepovers and studying.  But most importantly, we enjoy making memories in a home built by love."  Brittany, Habitat homeowner, Taylor, TX
Let's help more families like Britanny's this holiday season – Donate Today!