Why do you choose to support Habitat for Humanity of Williamson County, TX?
Besides the obvious of the location (versus driving into Austin), it is a small, tight knit group of regulars (sure we have ebbed and flowed through the years) and everyone is almost like a family member.  We have good synergy & enjoy working together.
How long have you been volunteering?
Since 1999 with Betty Jo's house, and every house since.
What is your most memorable HFHWC moment? 
Finishing Old Mill Village (a 20 home development in Georgetown completed in 2011).
How do you feel volunteering with us impacts your life?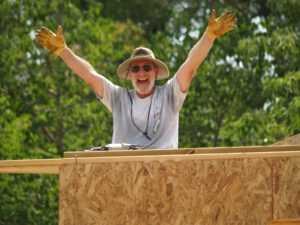 Volunteering with Habitat provides me with the great reward of knowing I'm helping families improve their lives & it gives me the enjoyment of all the elements of construction & teamwork with our volunteers.
What does "home" mean to you and why is it important to help provide that opportunity for others? 
Since home ownership has such a profound affect on an individual, it is great to be able to assist families toward that goal.  It provides the stability within the family nucleus & stability within the community.
If you wanted to recommend that someone support Habitat in two sentences, what would you say?
While I wished that everyone had a desire to help others who are not as well off as we are, I recognize that there are those who cannot.  For those who enjoy constructions (all aspects), like to learn new skills, enjoy fresh air activities & working with a wonderful group of people, then please join us!