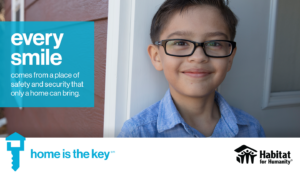 For many people across the U.S., access to an affordable home remains out of reach, creating barriers to affording necessities such as food, education or medical care.  Williamson County is not immune to this affordable housing crisis.
To address this critical need locally and across the country, Habitat Williamson County, TX has joined Home is the Key, a national campaign by Habitat for Humanity International aimed at highlighting the need for affordable housing and raise funds to drive lasting change.
"We have seen firsthand how an affordable home can play a key role in helping families and individuals thrive," said Debbie Hoffman, Executive Director.  "We invite our community to show their support by donating, volunteering or advocating with us throughout April so we can partner with more homeowners and build strong futures together."
You help unlock a Williamson County family's future every day when you shop at our Round Rock & Georgetown ReStores.  During the month of April, you can also support our Home is the Key campaign and make a financial donation while you shop the ReStores.