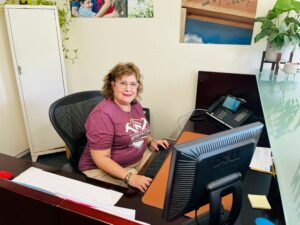 This month's volunteer spotlight features Beth Wilde, who donates her time every week to assist HFHWC's administrative team.
Beth was born Biloxi, Mississippi and moved to Central Texas in 1979, where she met her husband. After obtaining her B.S. in Nursing from UT, she worked in ICU as a critical care nurse for over 30 years. Unfortunately, Beth caught COVID in March 2020 and, due to the long-term medical issues, was forced to resign her position and retire.
However, Beth's persevering spirit drove her to find new ways to redefine herself and how she helps others. This led her to our organization and in the spring of 2022, she joined HFHWC as an administrative office volunteer.
Beth states that one of the primary reasons she was drawn to HFHWC was that she admired our efforts in helping people "… be independent… [and] get back on their feet." She also appreciates that our organization offers people the education and resources to succeed as a homeowner. Beth emphasizes that HFHWC isn't just about providing homes, but also helping local families maintain their homes and quality of life.
When she first came to HFHWC, Bet met with Linda, who was very supportive about bringing her on as one of our volunteers. She mentions that Linda gave her an "uplifting" experience during a time in her life where she was struggling to find new purpose and meaning.
Beth also mentions that she is thankful for her husband's continual support as she transitioned from her nursing career to working as a part of our team. She states she looks forward to continuing to volunteer for HFHWC for the long term.
In her free time, Beth enjoys crocheting and knitting, as well as reading. She is an active member of a crocheting group that also tries new things together, such as zip lining and wine tasting. She and her husband also enjoy gardening and spending time with their Cocker Spaniel, Kenny.