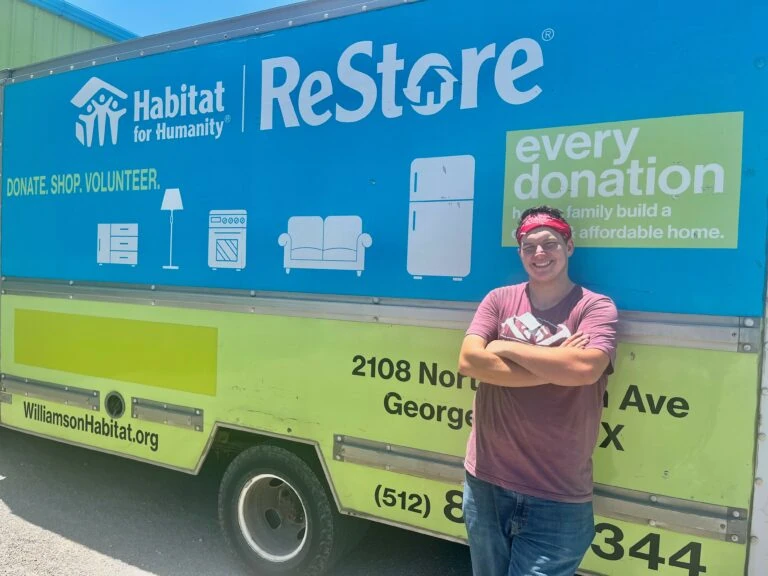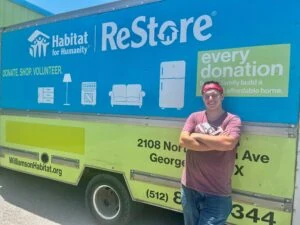 Our first Quarterly Volunteer Spotlight of our fiscal year is Stephen Polos! Born in Pleasanton, CA, as the middle child of five children, Stephen and his family moved to Georgetown, TX in Oct 2008.
As a devoted member of the Texas Austin Service Mission for the Church of Jesus Christ of Latter-Day Saints, assisting those in need has always been a strong calling for him.
"I think it's very important that we, as a people, keep out a hand to others, that we always have one hand available to help."
Volunteering with Habitat for Humanity of Williamson County
In August 2021, Stephen began his two-year missionary at our Habitat for Humanity of Williamson County (HFHWC) ReStore. Since then, Stephen has accumulated over 2500 hours with our organization and has become a vital part of our ReStore operations.
Through his hard work and positive energy, he quickly became lead volunteer at the ReStore, overseeing the north building, improving the layout of inventory, pricing items, assisting customers, and managing other volunteers.
When asked what it was about Habitat for Humanity that resonated with him, he replied, "I like that we make home ownership affordable; that we are able to help those that couldn't get a loan through traditional means."
Stephen also emphasizes that HFHWC is an organization that is incredibly helpful to those in need and is able to provide our services because of our strong network of supporters.
"We have great donors and volunteers to support our mission. Our supporters are extremely important in helping us help others. And it's because of them that HFHWC is great."
Great Changes, New Beginnings
As of August 16th, Stephen has completed his church's missionary with our Habitat ReStore and we are extremely grateful for the hard work and positivity he brought to our organization. Stephen has a strong faith and while his missionary volunteer service with Habitat has ended, he emphasizes that he will continue to help his neighbors in need. Thank you, Stephen, and good luck with your future endeavors!